You asked, we listened. Over the past few years, our team has received a steady stream of messages, tweets and emails, all asking for the same thing: for us to port Animator to Windows. After some time in the making, we're happy to reveal that today we launch Haiku Animator for Windows!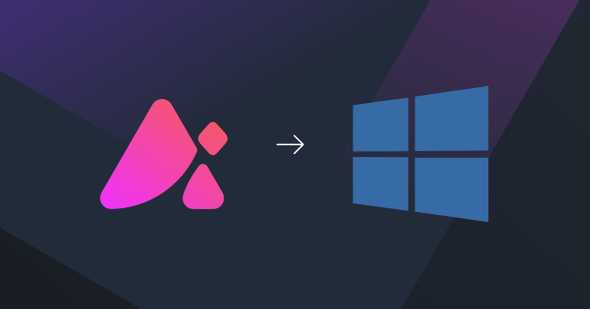 The story behind Animator
The Haiku team started building Animator 4 years ago, launching the first version for MacOS in 2016. Over this time, a lot of designers, developers and incredible teams like Deloitte, Uber, Lego, Google, Daimler/Benz and TripAdvisor, to name a few, have adopted Animator as a simple, easy to use and affordable alternative to create engaging animations for any app or website in minutes.
Animator allows you to export or embed your animation however you choose, with options for Angular, Vue, React, Lottie, Video and GIF, and offers a suite of features designed to build interactive experiences.
A new world of collaboration
As some of you know, the Haiku team is a small and tight-knit group of multi-disciplinary creators, working hard to fulfill our ambitious dream: to unlock creativity in software by enabling designers and developers to create, together.
Even with our best efforts, we knew we were only catering to only a percentage of people and teams with Animator for MacOS. Today, we're able to finally offer Animator to a lot more people making teamwork truly possible. Collaboration, can now include Windows users.
Connect with Figma
Windows users will be able to enjoy one of our most popular integrations, with world-renowned design tool, Figma. Figma helps teams create, test, and ship better designs from start to finish, and in association with Animator, it can be used to spark creativity and delight with interactive motion design.
Take your native app or website to the next level, engage and surprise your customers in no time. Animator was designed to be simple, and easy to learn. It doesn't take a rocket scientist, just your imagination.

What else is new?
This new release also includes:
The ability drag and reposition the Bezier Editor.
Support for <line> elements in Lottie export.
The ability to delete a single tween by pressing ⌫ (delete) without deleting the related keyframes.
Fixes
Fixed a crash when pressing Cmd + A while an element is being dragged.
Fixed a crash when an invalid curve value is entered while the Curve Editor is open.
Removed Control Flow > If and Control Flow > Repeat from the timeline ADD + menu.
Renamed Translation to Position in the timeline ADD + menu.
Removed a drag ghost image appearing while keyframes are dragged.
Fixed a crash when the internet connection is lost on some scenarios.
Added helpful warnings when trying to import complex design assets.
Fixed a bug causing the Timeline to appear empty when the Main Row is collapsed.
Fixed a bug causing to ask the user to install Sketch, even though it was already installed.
Removed Code Editor
Continuing our journey
These past four years working to build our dreams have been an absolute ride. We want to take a moment to thank all of you who have supported us from day one. Thank you for trusting our mission and our team, we hope this release opens a new chapter in our company's history. We look forward to seeing what you create. Tag us, message us, let us know what you think.
Connect with us